By Chloe Newell
Hydrangeas bushes are beautiful pom-pom looking flowers that are native to our zone 6 climate. Hydrangeas bushes can be seen all over Massachusetts in various assortments of colors based on the soil. Before planting your hydrangea, you should plan out which type you'd like to bloom. Use acidic soil for blue or purple-blue hydrangeas. Alkaline soil with a pH above 7 for pink and red hydrangeas. Alkaline soil with a pH below 7 creates a purple hydrangea. (Source : HGTV).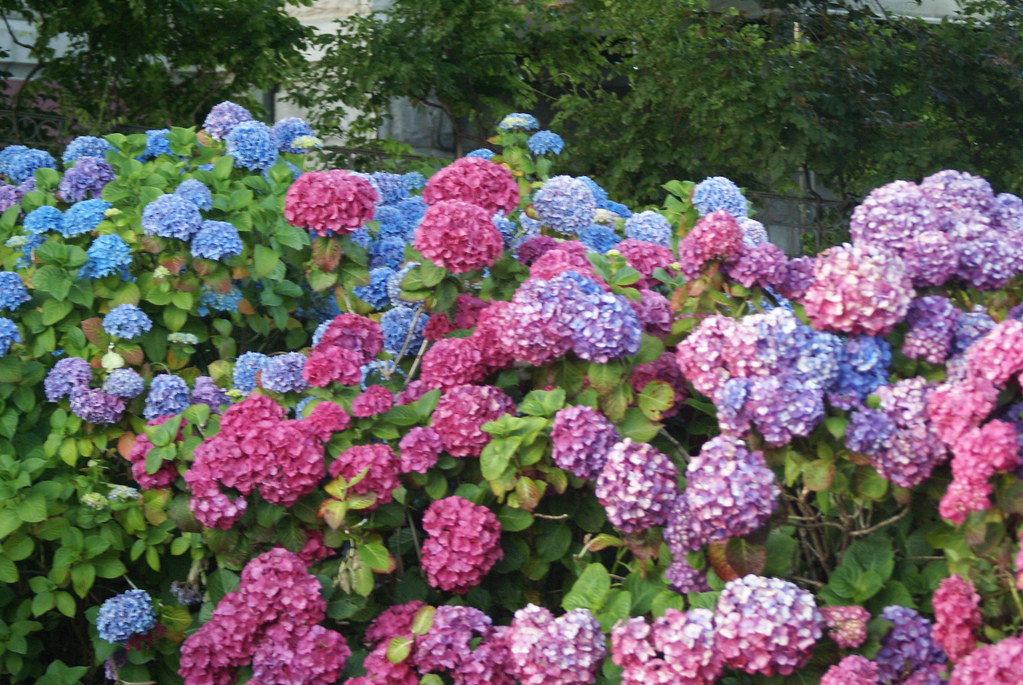 Seed Starting Advice
Most people who are starting to grow hydrangeas start with the root. This can be done in the ground or in a pot.
Plant in an area with partial sun. 
Trim around the root for parts that look rotting.
Dig a hole deep enough to cover the entire root, leaving 2 to 3 inches on the sides of the root.
Make sure that the top of the root meets the top layer of soil.
Remove root from hole, fill soil with water halfway.
Once water has absorbed, replace the root back into soil and fill the hole with water.
Re-water the plant once again.
(Source : The Almanac)
Growing Advice
When growing hydrangeas bushes, you will need to plant them at least 3 to 10 feet apart (Source : The Almanac). This will give them plenty of space to grow out and not be on top of each other. When it comes to protecting them from pests, you should keep your eye out for holes within the flowers. Slugs can be discovered when there are munches on your petals, and can be reduced using slug traps. Other insects, like scale, aphids, beetles and fruit worms, can be reduced using an insect control spray. ( Source : Esponma).
Harvesting Advice
Avoid cutting your hydrangeas when it is hot outside, since this will cause the flower to wilt. Cut within the months of August and October, which is when they are at their blooming season. Pick when the flowers are fully bloomed. (Source : Garden Guides).
Arrangement Inspiration
The most perfect bouquet featuring hydrangeas include different types of roses, like spray roses and African roses. They also pair well with peonies and dahlias. Alongside these statement flowers, you can add smaller greens, such as babies breath, eucalyptus, delphinium, foxglove, freesia, and bells of Ireland (Source : Cascade Floral Wholesale) When it comes to the colors of the arrangement, you want them to match based on what color hydrangeas you are using. When using blue or purple hydrangeas, you should stick to a more cool toned bouquet, and when you're using pink, you should use more warm toned flowers- white is the middle ground and can be mixed with either color. Below is an example of a bouquet mixed with both warm and cool colors that looks beautiful as well.