Overview: Kale is a cold-tolerant, versatile green, useful in salads, soups, "chips," and as a steamed side dish. Kale can have two crops in New England: one planting before the last spring frost and one planting at the tail end of summer, with a harvest lasting into fall.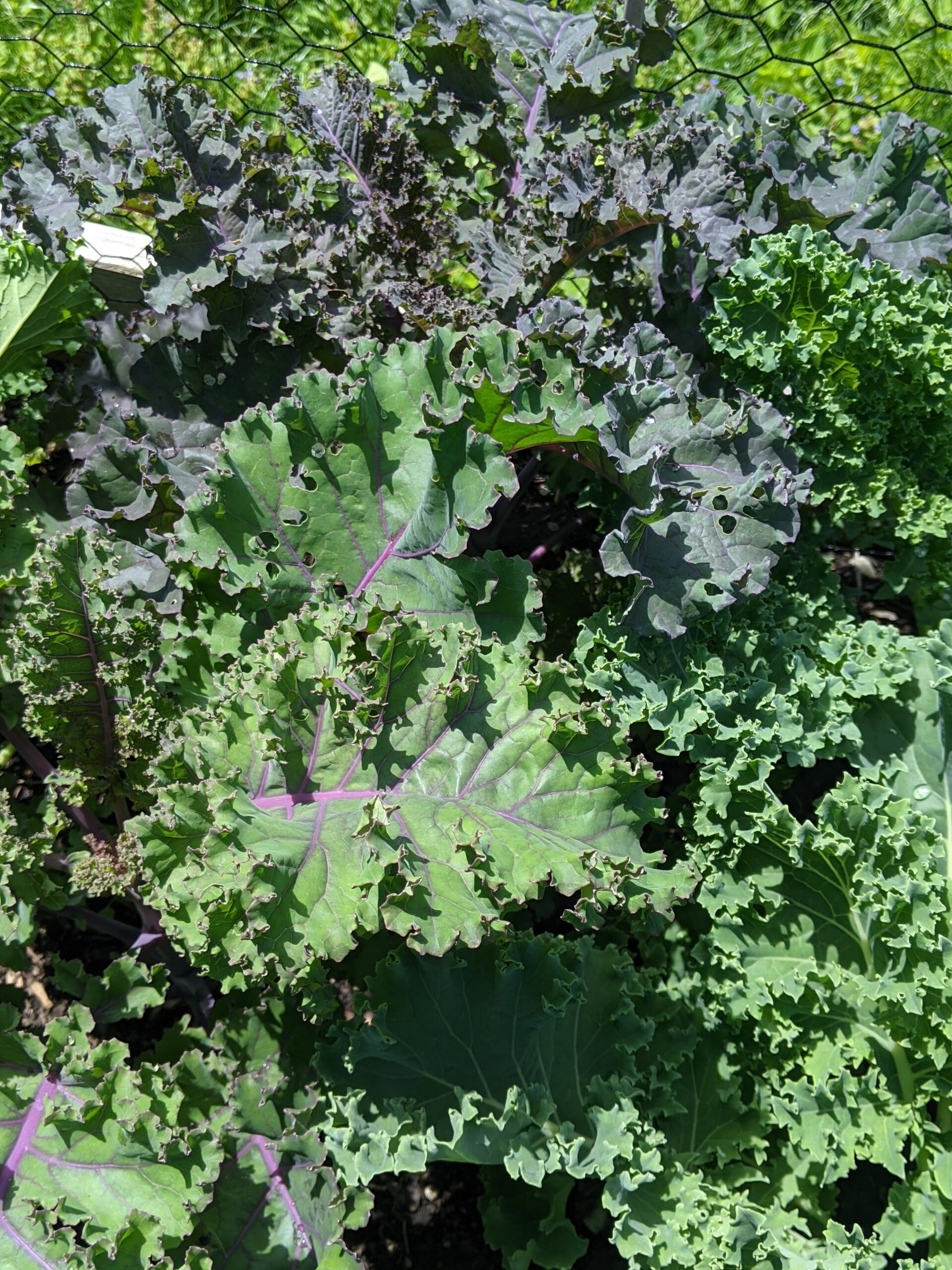 Seed Starting Advice: Kale can be started indoors under grow lights or on a sunny windowsill about 8-10 weeks before the last frost (end of March is good). Or, direct seed it in late April. Same goes for mid-to-late August–either direct seed or start in pots. Choose seed starting soil or a potting mix and plant seeds about ¼ inch deep. 
Growing Advice: Space seedlings about 12-16 inches apart. Slugs may attack young seedlings. If starting seeds in pots, it helps to wait until they're about 2-4 inches tall before transplanting. Collars made of toilet paper rolls or paper cups may also protect young seedlings. (photo needed) Common pests include the cabbage worm. Pick off worms (which often color match to the kale) or consider an organic spray of Bt (which will kill other types of caterpillars such as monarchs) or Neem oil.
Harvesting: Pick just a few leaves off a plant as needed and watch the plant continue to produce for months. Baby kale is excellent for salads. Some cooks will even massage the leaves to soften them. Kale that is older, more leathery, and even ruffled will be great for kale chips. (Flatter kales tend to stick to the baking sheet.)
Recipe for Kale Chips (from Lisa)
Wash the leaves and rip into bite-sized pieces.
Dry them well. If you have time, let the leaves sit in a bowl in the fridge for hours of even a few days.
When ready to cook, preheat the oven to 300.
Use a tablespoon of olive oil and two dashes of soy sauce for about 3 cups of kale leaves. Rub the oil and soy sauce into the kale leaves, spreading the mixture well.
Next, place kale leaves in a single layer on a baking sheet.
Bake for about 12 minutes.
Leaves should be crispy but not be too dried out. It also works well to check at about 10 minutes, remove already-crispy leaves, and let the rest bake for 2 minutes or so longer.