"Bon Bini!" A Papiamento phrase which is typically said when greeted by an Aruban. The story I would like to share with you is that of what I like to call, an endless adventure. Last year, I was given the privilege to venture to the Island of Aruba. Amongst what seemed like an endless time it took to exit the plane after arriving to Aruba, I was greeted by an arid climate, something that I was curiously surprised about. Provided that all the images that I gathered while searching Aruba, suggested that the island conveys a tropical climate.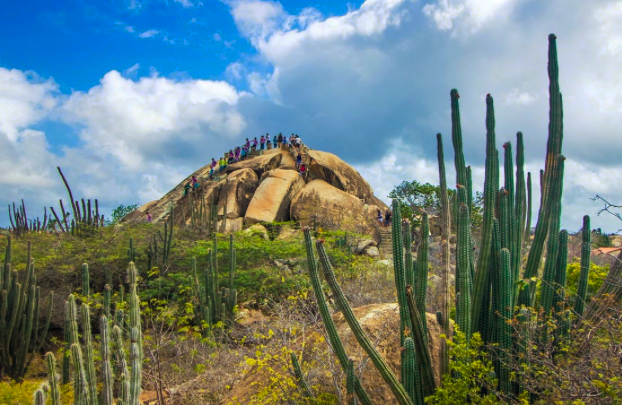 Pondering the adventure that awaited me, I scurried to the service desk. While attentively glancing at the wall of brochures, a tour guide approached me and was happy to answer any pressing questions I had. Unquestionably, I blurted out questions I had ranging from the culture to the geography and finally the cuisine of the island. The guide attentively answered my questions and highlighted that the island is a melting pot of cultures which offers a wide variety of cultural delights. Enthused, my next thought was that I had to make a trip to the local grocery store to witness how the agricultural scene differed from our, unsustainable selection of produce. Surprised, I entered the grocery store and was greeted with the pungent smell of cheese. After talking to a few local Arubans, I learned that there is a heavy cheese and dairy demand for the Dutch-owned island of Aruba. Eagerly, I wandered over the produce section and got a fresh sample of cheese made that morning, delicious, I thought to myself. Next, I knew it was time to see what kind of fruits and vegetables that awaited in the following aisles. Cabbage, carrots, bean sprouts, tomatoes along with an endless selection of produce met my eyes as I turned the corner. I thought to myself, how do they have so much selection. I curiously identified from my background in taking Spanish that many of the items were outsourced from other countries. To think that a semi-tropical climate such as Aruba participates in the same corruption that The United States has been branded for, I was again surprised.

Throughout the next week, I was able to observe and learn about the vegetation of the island given its diverse landscape. While on an eco-tour, I noticed that the island was populated with a unique, almost forced horizontal slanted tree. I later learned that this tree was called, the Divi tree, which acts as Aruba's natural compass, always pointing in a southwesterly direction due to the trade winds that gust across the island from the north-east.