Overview: Peppers can be found in a variety of colors as well as being effortless to maintain.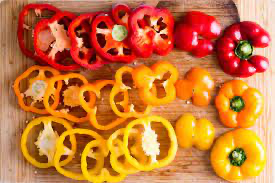 Seed Starting: Peppers prefer to be grown in a sunny, well drained spot. They can also be grown in containers, raised beds and in-ground gardens. Mix compost or other organic matter in the soil while planting. Another thing when planting the seed you want to plant them around 18-24 inches apart to allow room to grow. It's also necessary for the pepper plants to get just about 6-8 hours of sunlight per day.
Harvesting: Most pepper seeds will sprout after a week although superhots and others can take up to 6 weeks. Keeping the soil wet but not damp is crucial while they are growing. It's been shown that bell peppers change from green to red when fully ripened and when you buy red bell peppers they are ripened to green peppers to keep in mind while picking them! (Source)
Growing Advice: Sow seeds in late winter or early spring and no more than two months before there has been frost.
Recipe for Bell Pepper Nachos!
Try this low carb easy meal to make for you and your friends!
Cook ground beef thoroughly until cooked and stir in a packet of taco seasoning as well as a splash of water
Cut the bell peppers in half, drizzle some olive oil on and place them on a baking sheet
Then spoon the beef mixture into the bell peppers
Add some shredded cheese on top and bake on 350 until cheese is melted.
Madison Gagliano