Overview: Corn is a vegetable that comes in many colors but primarily yellow and white. Corn is usually classified based on the shape of the kernel of the corn as well as the texture. There are four main types of corn according to the Almanac such as sugary sweet corn, sugar enhanced corn, shrunken corn and synergistic corn.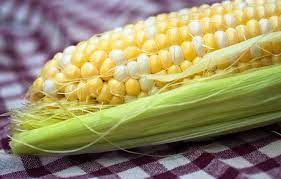 Seed Starting: It is not recommended to start growing corn seeds inside. It should be planted outside in warm weather and the soil temperature matters depending on what type of corn you are trying to grow. If attempting to grow in colder temperatures, place plastic over the soil and plant the seeds through holes in the plastic.
Sow seeds about 1½ to 2 inches deep and 2 to 4 inches apart in short, side-by-side rows to form a block, rather than one long row.
For decent pollination, we recommend a modest block of, say, 10 to 50 plants.
You may choose to fertilize at planting time with a 10-10-10 fertilizer; corn is meant to grow rapidly. If you are confident that the soil is adequate, this step can be skipped.
Water well at planting time.
(Source: https://www.almanac.com/plant/corn)
Growing Advice: Since corn takes a long time to grow it is recommended that you plant early and then plant farther along into the season to make sure that it grows. Early season corn will grow faster than late season corn which might take the whole season to grow.
Harvesting: Corn is usually harvested best 2-3 weeks before the first fall frost. To lengthen the season of growing corn it is suggested after the first few weeks of planting that you plant another round of seeds. Corn takes around 80-100 days to grow according to the University of Vermont's Zone 5-6 Planting Schedule.  (Source: https://www.uvm.edu/sites/default/files/Extension-Master-Gardener/Zones5plantsch.pdf)
Recipe for Summer Corn Salad
Ingredients
2 bell peppers, 1 red and 1 green, cored
1/3 cup plus 2 tablespoons corn oil
4 large ears corn, cooked
2 cups small red new potatoes, cooked
3 tablespoons finely chopped red onion
2 teaspoons minced fresh tarragon
2 teaspoons Dijon-style mustard
2 tablespoons minced fresh parsley
1 teaspoon soy sauce
1 tablespoon tarragon or white vinegar
Salt and pepper to taste
Instructions
Cut peppers into thin strips; then, in a medium-sized skillet, saute over high heat in 2 tablespoons of the oil until peppers are browned in spots. Set aside. Cut corn from the cob and dice potatoes fairly small. Mix remaining 1/3 cup of oil with onion, herbs, mustard, soy sauce, and vinegar. Stir in the peppers, then add the remaining vegetables and season to taste. Stir well and chill in a tightly covered 2-quart bowl for at least 2 hours, so flavors have a chance to blend. This salad will keep well in the refrigerator for 2 or 3 days.
Written by Jacob Hyjek