"There's absolutely nothing mini about mini rooms. The only thing mini about it is our pay."

– Anonymous WGA member about the May 2, 2023 strike, from IndieWire
---
Are you excited to watch the next season of your favorite television show? If so, it may be time to start rethinking that excitement because you will be waiting longer than expected. On May 2, 2023 the Writer's Guild of America (WGA) began their strike to change open issues within their negotiation deals. There is no question that devastating effects for writers, the industry, and the economy can become possible. If anyone has ever participated in a strike they know that it is about the long-term gains. When beginning this process the painful short-term effects of not engaging in work will prove to be worth it. Strikes can take weeks or months to end, but overtime those on the opposite side will be motivated to make concessions. In this case writers will be rewarded in their negotiations. For over one month now writers have been striking primarily in California and New York in the fight to protect their livable wages (Holmes, 2023).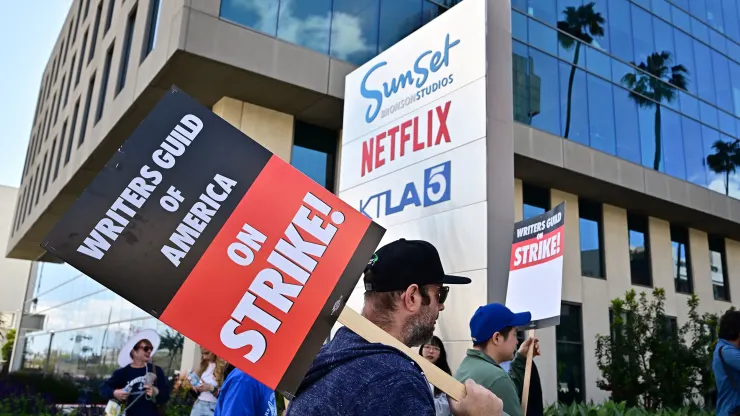 If you visit any production company or studio right now you will see hundreds of writers outside with picket signs showcasing their messages. The last time the WGA went on strike was in 2007 before streaming services were fully evolved. It meant that the writers were not able to include them into negotiations as they normally do every time distribution technology changes occur. Now 16 years later television has seen an explosion of streaming platforms. This means more writers are having to do work that pays worse and is less secure. A key issue of the current strike sits with the numerous streaming services as they are continuously pumping out content (Thurm, 2023). Recently streamers have been using a controversial practice that goes about shrinking writers rooms called mini rooms. Traditionally a room will include seven or more writers depending on the series, however mini rooms have only a handful for a shorter period of time. Essentially streamers are hiring writer's to 'break' the story, meaning they are structuring the season and breaking it down. Rather than being paid normal fees the writers are being paid union minimum for a short time on payroll. Despite the shorter time and lower wage these writers are still doing a heavy load of work. Game of Thrones writer George R.R. Martin stated his thoughts on getting rid of mini rooms, "The right to have that kind of career path. To enable new writers, young writers, and yes, prose writers, to climb the same ladder… Streamers and shortened seasons have blown the ladder to splinters," (Shanfeld, 2023). Streaming services are creating a system that allows them to produce less episodes in a season for a fraction of the price. The writers are being disrespected because they are being treated as gig writers rather than part of a possibly successful and long lasting show (Chappell, 2023).
As streaming services continue to disrupt the cycle of television shows with their shortened seasons, the duration of employment has become a large concern for writers. The strike is aiming to achieve a minimum terms of employment on television engagements. The goal is 10 consecutive weeks of work in addition to protections for staff writing rooms. Writers are being taken advantage of by the streamers who are engaging them for smaller guaranteed duration's while insisting exclusivity. In other words they want to be the writers first-priority beyond the guaranteed periods, meaning they are being prohibited from finding other positions. Not only are these writers being paid less than they deserve, but they are not able to find additional employment during the gray windows. It is contributing to their instability while working on temporary scripts. The writers have demanded streamers begin to pay additional residuals that are based on viewership and improve the residuals for high budget advertising-based video on demand television. Unfortunately the Alliance of Motion Picture and Television Producers (AMPTP), whom they are striking against, rejected the demand without providing a counter proposal. Streamers have been secretive with their data of viewership, engagement, and the value of specific pieces of content leading to a lack of measurable formulas. Without a proper way to measure the success of shows on these platforms the AMPTP cannot convey a way of measuring the residuals. For these reasons it is extremely important for the WGA to win this fight. The protection of a minimum work period and additional compensation is essential in being able to make a livable wage (Ramo, 2023).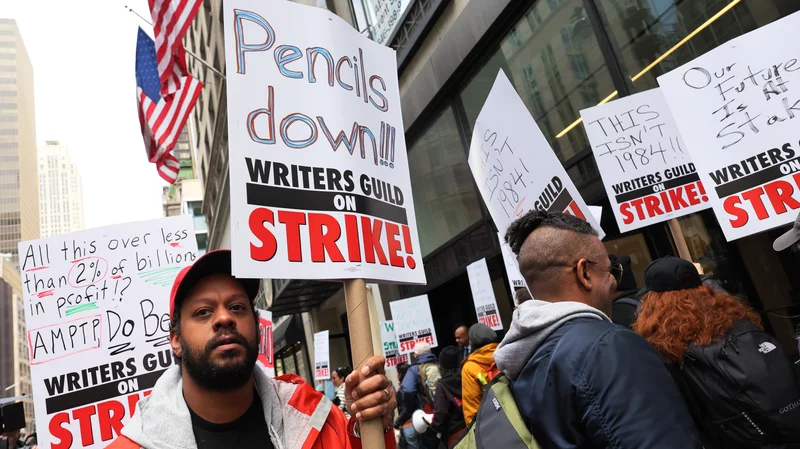 As writers continue their fight for better contracts many are joining in the action. Outside Culver City's institutions on May 5, 2023 Jeopardy writer Michele Loud stated, "Our words are on the screen every night. There is no 'Jeopardy' without writers. Without us it's just an empty blue screen," (Earl, 2023). Brett Goldstein actor from Ted Lasso and writer of Shrinking, both Apple TV+ original shows, told Collider, "It's time the writers were paid a fair wage. There are writers who are struggling to afford to live, and in our business, we need writers," (McPherson, 2023). Jesse Tyler Ferguson, Sarah Hyland, and Nolan Gould from the television show Modern Family reunited with their writers on June 1, 2023 to support the mission. Ferguson stated on Instagram, "Modern Family wouldn't have lasted 11 episodes…much less 11 YEARS without the incredible work of our writers. It was so wonderful reuniting with the @modernfamily cast, crew, and WRITERS today to show that we are all #wgastrong!"
With the continuous support from actors and filmmakers the strike has been in the media everyday. The clever written signs and celebrity appearances has led to the writers winning the current PR war. It has been a long process, however the WGA are not planning on giving up anytime soon. Television shows and movies will continue to suspend production until the strike can be resolved. In the end the goal is for the writers to get what they rightly deserve in the career that they love." (Saperstein, 2023).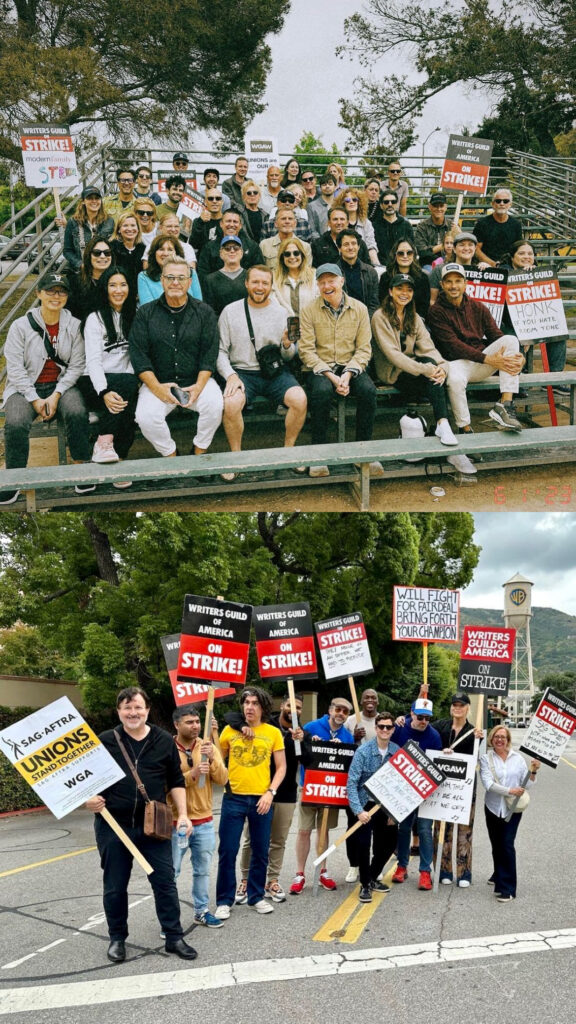 Written by Kirstin Trouville
---
Chappell, B. (2023, May 3). From Mini Rooms to streaming, things have changed since the last big writers strike. NPR. https://www.npr.org/2023/05/03/1173439467/writers-guild-strike-2023-comparison-2007
Earl, W. (2023, 6 May 6). Week 1 of WGA Strike — 'Jeopardy!' Writers Answer Questions: 'Without Us It's Just an Empty Blue Screen'. Variety. https://variety.com/2023/tv/news/wga-writers-speak-out-studios-execs-picket-line-1235601261/
Holmes, L. (2023, May 3). If you think a writers strike will be bad for viewers, status quo may be even worse. NPR. https://www.npr.org/2023/05/03/1173552824/what-writers-strike-means-for-viewers
McPherson, C. (2023, May 2). Elizabeth Olsen, Brett Goldstein, and More Hollywood Stars Offer Support to Striking Writers. Collider. https://collider.com/wga-writers-strike-celebrity-support/
Saperstein, P. (2023, May 16). Writers strike 2023: The celebrities who have picketed with WGA. Variety. https://variety.com/lists/writers-strike-2023-celebrities-picketing-wga/tina-fey-2/
Shanfeld, E. (2023, May 9). George R.R. Martin Calls Mini Rooms 'Abominations': 'The WGA Needs to Win on That Issue'. Variety. https://variety.com/2023/tv/news/george-rr-martin-writers-strike-mini-rooms-1235607525/
Ramo, E. (2023, June 1). 3 challenges to overcome in the writers' strike. Forbes. https://www.forbes.com/sites/elsaramo/2023/05/29/wga-strike-breaking-down-the-fight/?sh=2723cbee1de0
Thurm, E. (2023, May 5). All about the writers strike: What does the WGA want and why are they fighting so hard for it?. GQ. https://www.gq.com/story/writers-strike-2023-wga-explained