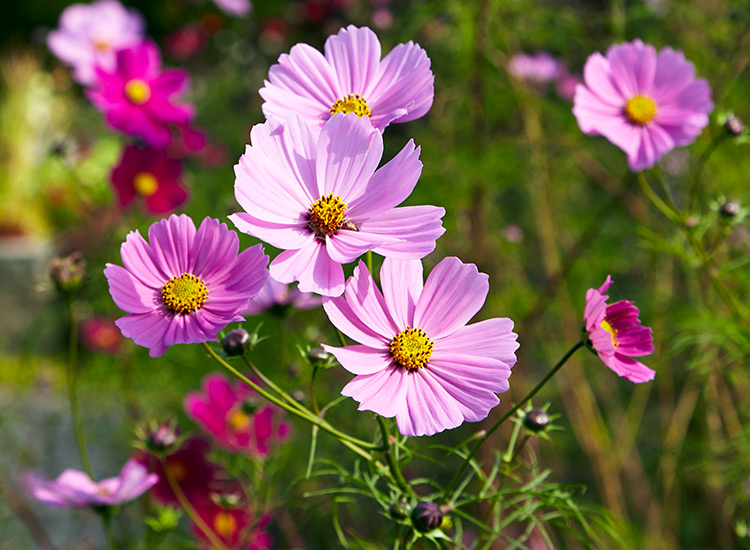 Have you ever thought about planting flowers? Roses? Dandelions? Sunflowers? What about Cosmos? These beautiful flowers are one of a kind. Cosmos truly are one of the most underrated flowers. Did you know these flowers represent peace and love? Lets learn some more about cosmos!
What soil should I use when planting Cosmos?
When planting cosmos, one should use soil that is not too rich and not too thin. This can be classified as Well- draining soil. Cosmos grow best in neutral to alkaline soils, this soil has a pH of 7.0-7.5. (Source: Almanac)
Cosmos grow in warm dry weather. Oftentimes Cosmos are found in a drought-like environment. Cosmos should be direct sow seeds, meaning, they should be planted directly in the garden, as opposed to buying them in small plants and storing them inside. Cosmos can be planted in any garden bed, planting them no more than 1/4- inch deep. (Source: Almanac) Cosmos should be planted in a place that has full access to the sun.
How much water should I give my Cosmo?
Watering your Cosmo once a week is the ideal amount of water the flower should be receiving. Overall cosmos should receive about two gallons of water per week.
When planting make sure to keep each seedling 12-18 inches apart from another. This prevents each flower from "running into one another". Cosmos can grow up to 60 inches tall, so it is important to take this into consideration so each flower grows beautifully. If you opt to grow your Cosmo in a pot, ensure to purchase a pot that has bottom draining holes. (Source: The spruce) Unfortunately it has been shown that grasshoppers, aphids, thrips, and lygus plant bugs can infect cosmo plants. These insects will eat at cosmos for a nice lunch! To prevent this from happening one can wipe or spray the leaves with a solution of water and a couple drops of dish soap. This should be reapplied every 2-3 days for 2 weeks.
Harvesting advice:
When harvesting, one can cut the flowers off anytime after blooming. It is best to pick some off right when the petals have opened. After cutting the flowers once they're done blooming, they will last over a week in water. To store them strip the lower leaves and put them in a vase (Source: Almanac).
Written By: Beth Rizzuto