Overview: Thyme is in the mint family. Thyme is well known for its fragrant smell and strong flavor.
Planting: You should plan on planting your thyme in the spring, when the frost is done. Thyme thrives in well drained and fertile soil. It needs to be in a sunny area. You can grow thyme from a seed or you can grow it from an already existing plant. If you are growing from an already existing plant, you need to space the plant 12"-24" apart. If growing from a seed, you should start it in a pot in the early spring and scatter the seeds over the soil, then cover with a thin layer of soil and lightly water. (Source: Bonnie Plants)
Growing Advice: In order to thrive, you need to grow thyme in a sunny and warm environment. The more sunlight the crop receives, the stronger the flavor will be. (Source: Love the Garden)
Harvesting: On average, thyme will be ready to harvest between 75 and 90 days of planting. However, some varieties take up to 200 days until they are ready to harvest. You should plan to harvest your thyme before the flowers bloom. Cut the top 5-6" of the plant. The best time of day to harvest thyme is in the morning after the dew has dried. (Source: Almanac.com: Thyme)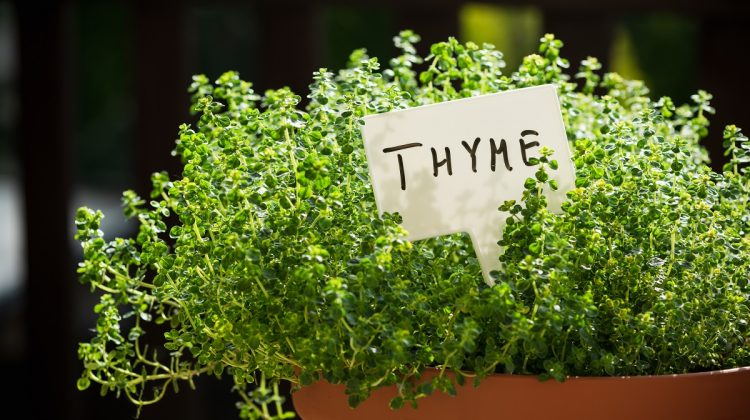 Check out this recipe for Thyme Roasted Potatoes. This is one of the simplest and easiest sides if you want to impress a crowd. This is one of my favorite sides to make when our thyme is ready to harvest.
Ingredients:
2 pounds of your choice of potatoes (I like baby red potatoes)
3 tablespoons olive oil
2 teaspoons garlic powder
Salt & Pepper
1 tablespoon fresh thyme
Shredded parmesan cheese
Optional: fresh garlic and lemon slices for added flavor
Steps:
Preheat oven to 425 degrees fahrenheit
Wash and slice your potatoes
In a large bowl, add your potatoes, olive oil, garlic powder, salt & pepper and mix
Line a baking sheet with parchment paper and spread the potatoes out evenly. If you halved your potatoes, make sure they are flat side down to ensure a crisp
Roast the potatoes for 30 minutes, at 15 minutes, add the parmesan cheese
Remove the potatoes from the oven and toss them with fresh thyme, add another drizzle of olive oil and use a spoon to carefully mix
Optional: squeeze the lemon wedges on for a tangy flavor
Written by Lexi Lescovitz